Duct Systems
Magic Composites, Inc. is a leading Chinese OEM manufacturer of high quality (Flame and Smoke) fiberglass reinforced plastic (FRP) products for industrial and commercial exhaust, ventilation and process related duct systems. Whether the application is in industrial exhaust or commercial HVAC, Magic Composites offers a variety of quality products and superior service. We supply both single wall and pre-insulated double wall duct to meet every ventilation need.
Fiberglass (or FRP) duct is thin walled pipe generally used for corrosive fume exhaust from process areas or equipment, but also used for fresh air supply or light-weight conveying of liquids or solids. Fiberglass duct can be used above or below ground, with proper attention to mechanical design requirements
Fiberglass FRP Duct is available in a wide variety of corrosion resistant materials, shapes and thickness. All thermoset resins and most reinforcements can be used to fabricate duct, although flame retardant corrosion grade polyesters and vinyl esters using E-glass reinforcement predominate.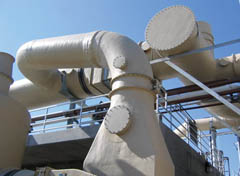 Ductwork - Magic Composites offers two main categories of FRP duct products: single wall and pre-insulated double wall.

Fittings
- Magic Composites offers a complete line of fiberglass fittings to complete your FRP Duct system.
Joints
- Field joints within the corrosion resistant product line are made using the wet lay-up method using a glass, resin wrap

Flame and Smoke duct is used in a wide variety of industries. Typical applications include the following:
Chip Manufacturing

Wastewater Treatment Plants

Plating and Metal Finishing

Automotive Plants

Chemical Storage Facilities

Pulp and Paper

Laboratory Exhaust

Clean Rooms

Pharmaceutical Plants

Natatorium / Pool Supply & Exhaust

Diesel / Automotive Exhaust

Mining