FRP Ductwork
Prouduct Offerings - Magic Composites offers two main categories of FRP duct products: single wall and pre-insulated double wall.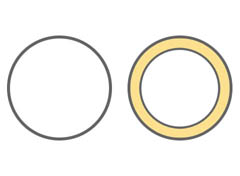 Single wall & Double wall
Typical Duct Shapes from Magic Composites
Shape - Typical shapes for filament wound construction are round, rectangular and oval. Special shapes such as triangular are also available. Engineering assistance is available for designing projects requiring non-standard construction.
Diameter - Duct diameters are available from 2" - 146" (5cm - 370cm). Rectangular sizes are available as required for your projects. The same range of sizes are available in Magic Composites double wall duct.
Wall Thickness
- Duct wall thickness ranges from 1/8" - 1" (0.3cm - 2.5cm). Other wall thicknesses are available for abnormal burial depths or other special loading requirements