Handrails & Railings Systems
FRP handrails are railing systems used in commercial and industrial applications for guardrails, stair rails and platform/walkway handrails. They easily outlast steel handrails, stainless railing and stainless steel railing systems. Each system is assembled from pultruded fiberglass components and molded thermoplastic connectors. Magic handrails systems are particularly well-suited to corrosive environments like those found in industrial, chemical and wastewater treatment plants as well as commercial structures with urban and salt air corrosion.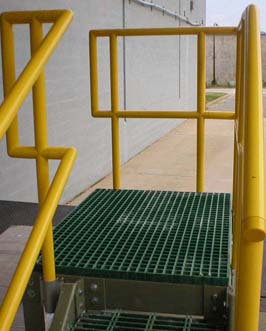 Advantages of Fiberglass Handrails & Railing Systems
Low Maintenance - Virtually no maintenance is required in fiberglass railing systems featuring molded-in color plus an optional tough polyurethane coating which outlasts aluminum and stainless steel railing systems.

Ease of Assembly - Handrail systems can be either installed on-site with simple carpenter tools or assembled during fabrication and shipped to the site in large sections. All components are lightweight and easy to install, including post and beam sections.

Cost Effective - No downtime for repairs in plant operations, ease-of-assembly, and rugged durability make fiberglass handrails a cost-saver on labor and maintenance, resulting in long-term savings.

Internal Connection System - The components of FRP handrails all fit together flush, creating a pleasing streamlined appearance. The internal connections allow the construction of continuous handrail systems without special fittings.

UV Coating - In addition to the standard polyester resin system, FRP railing systems can come with an industrial grade polyurethane coating for additional protection in outdoor applications.

Resin Systems - Polyester is standard for fiberglass handrail systems but other resin systems are available upon request.