C - Series Piping
Magic C - Series FRP piping is recommended for most caustics, salts, solvents, many acids and chemical process solutions up to 250°F. The proprietary resin formulation also provides the toughness for many abrasive slurries. Its unique manufacturing process makes it tough and easy to install. Precision pipe outside diameters and positive stop fittings allow easy fabrication of complex pipe spools where close tolerances are required.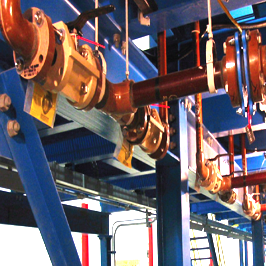 Standard Features and Accessories
Construction: Centrifugally cast with aromatic amine cured epoxy resins and high strength glass fabric
Temperature Range: Up to 250°F/120°C
Joint Types: Straight Socket or Flanged
Chemical Service: Chemical process solutions, hot caustics, solvents, acids, salts and corrosive combinations
Size Range: 1" - 14"
Inner Corrosion Barrier: 100 mils
Pressure Ratings: 150 psig / 10 bar