G - Series Piping
Recommended for diluted acids, caustics and hot brine, Magic G-series fiberglass pipe is filament wound using an amine-cured epoxy resin and fiberglass and has a resin-rich liner reinforced with a surfacing veil for superior corrosion resistance. G-series Pipe is available in 18" through 36"diameters with pressure ratings up to 450 psig static at a maximum operating temperature of 225ºF. The pipe is available in standard 40'lengths and its bell and spigot connection offers quick installation.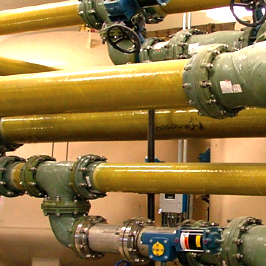 Standard Features and Accessories
Construction: Filament wound with amine cured epoxy resins and fiberglass roving.
Temperature Range: Up to 225°F/107°C
Joint Types: Bell and Spigot
Chemical Service: Dilute acids, caustics and hot brine
Size Range: 1" - 24"
Inner Corrosion Barrier: 30 mils
Pressure Ratings: 225 - 450 psig