F - Series Piping
Magic F - Series FRP pipe uses vinyl ester resin for excellent corrosion resistance (premium corrosion resistant and fire resins available) to most strong mineral acids, bleaching solutions, and chemical waste streams up to 200°F. Reinforcement and corrosion liners are custom made to meet your application requirements.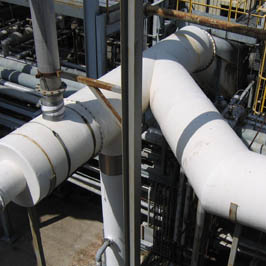 Standard Features and Accessories
Construction: Filament wound with amine cured epoxy resins and fiberglass roving.
Temperature Range: Up to 250°F/120°C
Joint Types: Bell and Spigot, O-ring, Flanged or Butt & Wrap
Chemical Service: Water, brine, caustics, petroleum products, acids and many chemical waste streams
Size Range: 1" - 72"
Inner Corrosion Barrier: 20 - 250 mils
Pressure Ratings: 150 psig / 10 bar