S - Series Piping
Magic S - Series FRP piping is designed especially for abrasive and corrosive services found in flue gas desulfurization (FGD) scrubber applications such as limestone, gypsum and ammonium sulfate slurries.
S - Series FRP pipe is filament wound using epoxy resin and fiberglass reinfo=rcement. Manufactured with a proprietary blend of abrasion-resistant additives, it is offered with a standard 80 mil nominal liner. Custom liner thicknesses are available on special request.
S - Series epoxy piping up to 24" diameters is ideal for yard piping and is designed to operate at temperatures up to 225°F / 107°C and pressures up to 225 psig. Also available in 30" through 48" diameters, is ideal for recirculating piping and operates at temperatures up to 200°F / 93°C and pressures up to 150 psig.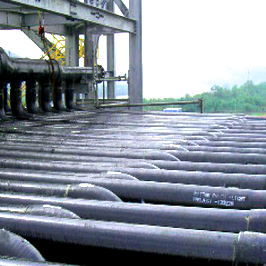 Standard Features and Accessories
Construction: Filament wound with epoxy or vinyl ester resin and fiberglass roving with special abrasion resistant liners.
Temperature Range: Up to 225°F/107°C
Joint Types: Bell & spigot or Butt & Wrap
Chemical Service: Abrasive and corrosive service applications such as limestone and gypsum slurries in flue gas desulfurization (FGD) scrubbers.
Size Range: 2" - 48"
Inner Corrosion Barrier: 70 - 100 mils abrasion resistant liner
Pressure Ratings: 150 psig/ 10 bar/ 2" - 24"
225 psig/ 10 bar/ 30" - 48"